The "Playskool Poppin Park Elefun Busy Ball Popper" was a gift to my son when he was 5 months old and he has enjoyed this toy from the beginning.  First, this was a great developmental toy that really encouraged him to develop his hand and arm coordination, something he needed to work on due to a birth injury.  His excitement for this toy made movements like grasping and wrist supination something he would do due because of his own motivation.
At six months, when he was standing supported, he loved feeling the air gently blow in his face as he would watch the balls pop out of the trunk.  As he matured he began figuring out how to push the button, cause and effect, and began playing with the toy independently of us.  I think that is when it became the most exciting for him.  He would screech in excitement every time he would start the elephant up again, this was probably around 7 or 8 months, and a huge highlight for us. We have lots of fond memories of those days.
At one point, around 10 or 11 months he became frustrated with the toy, and would get angry when the balls ran out and stopped coming out of the trunk, but this phase was very short.  I have since brought it out again now that he is 13 months old and he is loving it like a new toy.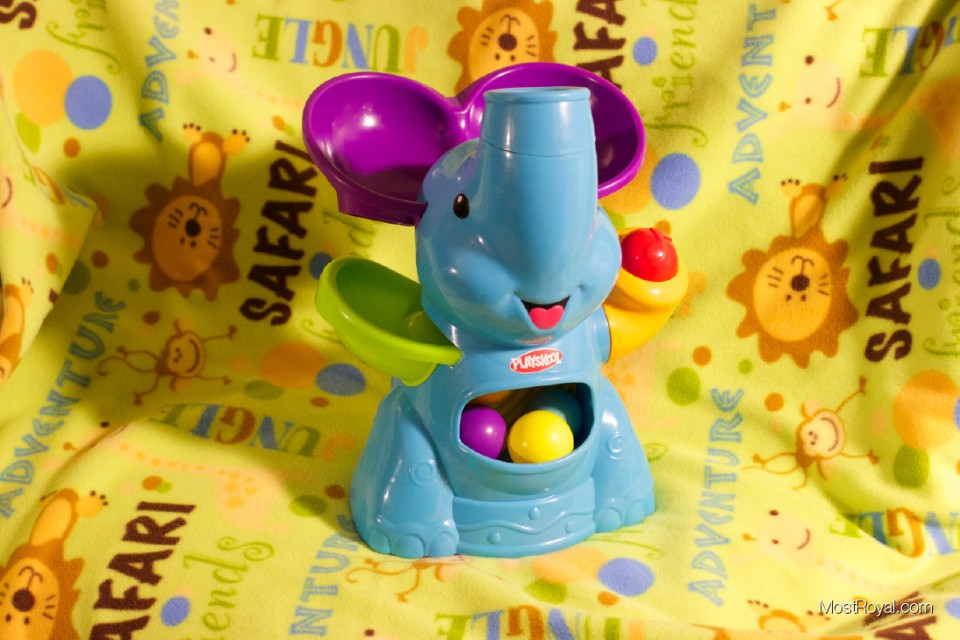 My only complaint of this toy, is that it is rather noisy, but I suppose that is to be expected as it has a little motor to blow the air and plastic balls out of the trunk. That fan sound combined with the music can be a little intense at 6am. But, if that is my only complaint then I'd say it is still a great toy!  My son loves it, and that's really all that matters.
We read on forums that other users were unhappy with this toy because the balls don't always shoot out of the nose and instead tend to hover at the tip. I would actually say that this is a positive. When the balls would pop out consistently (fresh batteries) many times they would overshoot the ears designed to catch them and then they would roll away on the floor. When the balls hover it gives our son more enjoyment. It startles him less and it actually gives him a chance to grab the ball and put it back into the ear. (About 30 percent of the time the ball will eject fully.) He loves to place the ball back into the trunk and feel the wind blow it into his hand again. Overall the battery life is great. We have had this over 6 months and have not needed to replace them.
My husband adds that this toy can also be great when you are feeling exhausted. It always gets our son laughing, bouncing and keeps him fully entertained – and it does this all in one place! So after an especially hard day at at work you can sit with your kid, play along and catch your breath for a moment. Seeing the HUGE smile this toy put on our son's face made it a great experience for us and it always energized us to keep playing once he moved on to the next thing.
I give this toy 5 out of 5 stars because our Little Prince really liked it from the beginning.  I also know that a cousin of mine enjoyed this toy well beyond 2 years old, so I know it's a keeper.