We are Jeff and Steph, parents who want to help you find the stuff you should buy and the stuff you should avoid.
On this site you will find our concise reviews of baby and kid gear. Why trust us? We research everything. We have combed through all the Amazon reviews, baby forums, chatted at mom meet-ups and worried that buying the wrong thing that will somehow ruin our kid's life. Basically we've done all the stress and legwork for you. For example, guess who bought 5 different baby carriers in an attempt to find the right one?  We did.
All of the products we review are items we are actually using and abusing. And, unlike an Amazon review if we change our mind we will update the site with new information.
Hopefully we can also earn some extra money to help pay for diapers. OH MY GOD, DIAPERS ARE SO EXPENSIVE.
---
Products are rated on a scale of 1-5 stars.  Anything earning 5 stars is dubbed Most Royal and gets our seal of approval.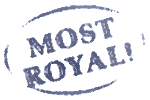 ---